I never thought I would say this, but…after spending the past few days with my family, I think I'm looking forward to seeing my husband's family. Crazy.
Seriously, though, I love his mom. His dad and sister are kind of fucking annoying, though. Can we just have Christmas with his mom only? That would be much more enjoyable.
I'm wishing we had stayed at home for Christmas right about now.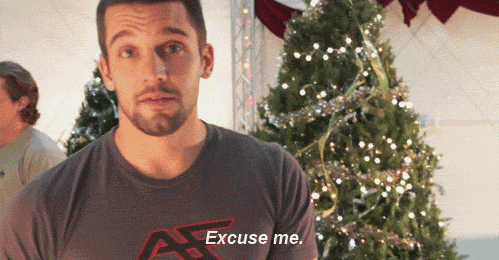 Why? Take into account the following:
1) I was dragged to church this Sunday. Where my grandfather led the Sunday School class. And said it's ridiculous that the people of our country want to give gays rights. And the preacher during the regular service pretty much said the same thing, right after saying it's Christmastime, the time of good will towards men. Had I not been sitting the middle of the pew I might have run screaming out the door.
2) Before opening gifts my grandfather spent 30 minutes essentially repeating his Sunday School lesson. Then the whole family essentially bashed President Obama, saying anyone who supported him is an idiot and he's the antiChrist, etc. while I sat there and exchanged looks with my sister, the only other member of our family that agrees with me and not them. (For the record, I don't like Obama much more than anyone else, but he's damn sure better than the alternative IMO. And that's what it is: my opinion. I may not understand why some people like…the alternative… but I don't think I have ever called him the antiChrist or wished him death. Fuck my family.)
3) I asked for money for winter clothes (since I have TWO winter shirts and one coat) but got a fucking BIBLE instead. What the fucking fuck is that? Granted, my grandparents got us a humidifier, which I said we needed due to the dry weather at home causing nosebleeds. That was nice. But a Bible instead of clothes money? Really? If you were worried I wasn't going to actually buy clothes with it you could have gotten me a gift card. Now I'm tempted to return the Bible and donate the money to a charity that supports gay and lesbian rights. Fuck your Bible.
I realize that I did get some nice gifts (new boots from my mom!), so please don't think I'm being a spoiled brat. I'm not whining that someone bought me the wrong car or gave me two thousand dollars instead of three thousand, like some spoiled bitches undoubtedly are at this moment. I'm whining that instead of giving me something I can actually use and genuinely need (clothes) they gave me a fucking Bible. Fucking hell. I would have gladly forgone all the gifts I've received, including the boots, just to avoid being dragged to church, listening to my family talk crap about everyone else, learning that what they consider non-Republican and non-Christian thoughts aren't welcome, and getting a fucking Bible as a gift. This isn't a family Christmas. This is a family bashing of anyone who doesn't think exactly like grandpa. At least my sister gave me a little bit of cash and is taking me shopping at a resale shop for clothes. She gets it. Thanks, sis.
Like I said… I'm really looking forward to hearing my father-in-law's conspiracy theories and my sister-in-law's whining. I especially look forward to listening to her boyfriend lie his ass off all week, too. I actually mean it. It's better than the crap going on at my family's place.